FREE Parent Forum and Opportunity Expo at Clifton High School - Passaic County
Saturday, May 20, 2017 8:30 am - 1:00 pm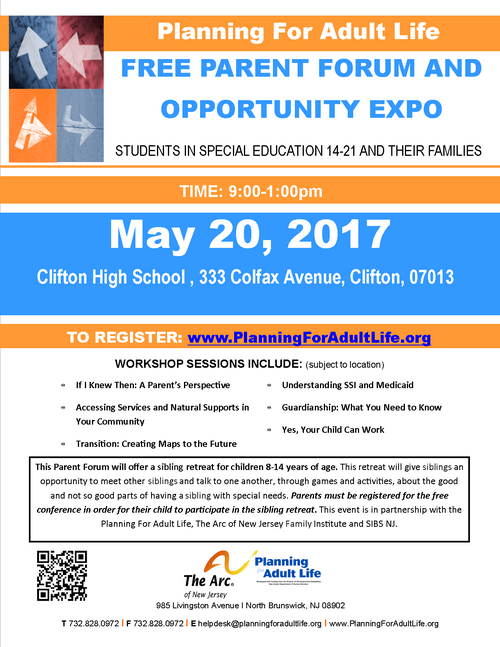 Location:
Clifton High School, 333 Colfax Avenue, Clifton, NJ 07013
Description:
These events are held throughout the state and consists of a Parent Forum that includes workshops (45-60 minutes) on specific topics including support coordination, the continuum of community services, financial planning, eligibility requirements, and where to find help. The Opportunity Expo features a variety of exhibitors including: state and county government entities, community service providers, service coordinators, local health care support and recreation providers, additional information and referral services. Families will have an opportunity to be introduced to opportunities in their area as well as interview potential services to hire.

This Parent Forum will offer a sibling retreat for children 8-14 years of age. This retreat will give siblings an opportunity to meet other siblings and talk to one another, through games and activities, about the good and not so good parts of having a sibling with special needs. Parents must be registered for this free conference in order for their child to participate in the sibling retreat. This event is in partnership with the Planning For Adult Life, The Arc of New Jersey Family Institute and SIBS NJ.