Mission & History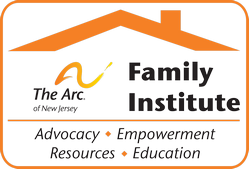 For more than sixty years, The Arc of New Jersey has been committed to providing information and advocacy to children and adults with intellectual and developmental disabilities and their families. Ensuring that families have the tools they need and are empowered to act have been our top priorities.
Over the years, The Arc of New Jersey's programs and projects have focused on helping families and their loved ones receive the supports and services they need. We've learned that when families receive the proper information, training, mentoring, support and advocacy, families can make a difference in the lives of all individuals with intellectual and developmental disabilities.
The Arc of New Jersey Family Institute is dedicated to providing timely information, advocacy, support and training to family members of an individual with intellectual and developmental disabilities. It consolidates all of our outreach and support to families under one program and greatly expands upon the activities that we are currently providing to families. It is crafted with the knowledge and expertise of our past initiatives in mind, and strives to harness the growing enthusiasm of families currently engaged with The Arc.
The Arc of New Jersey Family Institute provides families with the information they need to stay informed in order to better advocate on behalf of their loved one through:
Information:
Email updates regarding important issues concerning caregivers
Action alerts on upcoming legislation
The Family Advocate, a monthly e-newsletter
Information and referrals 
and through other exclusive advocacy resources 
Individual and Systems Advocacy:
Works to create changes on the local and state level that will benefit all people with developmental disabilities, and offers one to one assistance as needed
Engagement:
Join the conversation on Facebook
Share our Pins on Pinterest
Training and Education:
Webinars, workshops and presentations
---
The Arc of New Jersey Family Institute Brochure
---
The Friends Network
Advocacy is most effective when families, self-advocates and professionals work together. The Friends Network was established to help support individuals who are dedicated to becoming effective advocates. Friends will receive the same pertinent information from The Family Institute that family members receive. Please join the Friends Network Today!