IEP Go Bag
What You Need When You're Preparing to Meet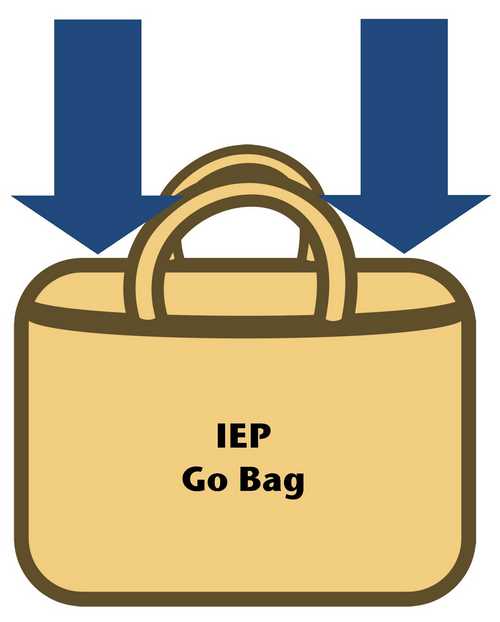 Before the Meeting: As a caregiver, you bring very important information to the IEP meeting. You know your child's strengths and weaknesses, and all the little differences that make your child unique. Don't forget to place your child's photo in the middle of table so everyone remembers who the meeting is about.
IEP Guide: One of the most important parts of the special education process is creating a plan for your child's education. This guide will provide information on commonly used terms, IEP eligibility, and what your rights are as a parent or guardian.
Helpful Hints: Tips to follow before, during and after the IEP meeting.
Frequently Asked Questions: Find answers to the most frequently asked questions about IEP from how it is developed to what happens if you disagree with the evaluations.
Parental Rights in Special Education: This is one of the most important reference guides you will have concerning your child's special education. It was developed for you by the Department of Education, Office of Special Services in an effort to provide the most comprehensive and up to date information regarding the IEP process.
New Jersey Special Education Advocacy Guide: This self-advocacy guide assists caregivers and students with disabilities to navigate through the special education process.
Back-to-School Tips for Parents of Children with Special Needs
Special Education Overview: Courtesy of Hinkle, Fingles & Prior Attorneys at Law
Changes to Your Child's Special Education Program: Courtesy of Hinkle, Fingles & Prior Attorneys at Law
Transition Services: Helping Students Move From School to Adult Life - It is never too early to plan for your student's life after school.
Transition Services: Your Resource Checklist
The Arc of New Jersey's Planning for Adult Life Program
---
Examples of Accommodations & Modifications
---
Links
---
Go Bag Table of Content