Early Intervention Go Bag
What You Need When Your Young Child (0-3) May Have Developmental Delays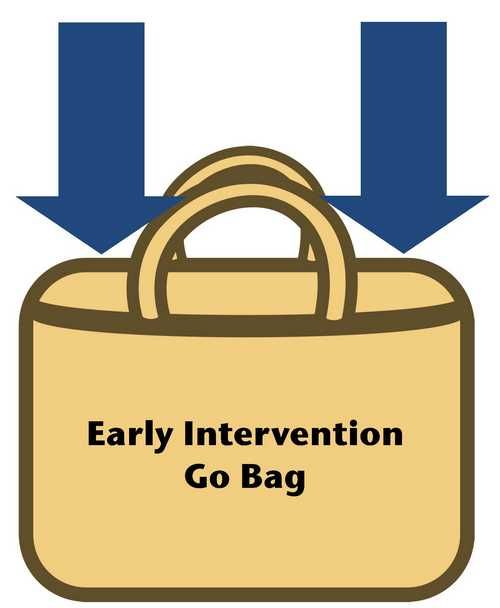 What is Early Intervention?
The Early Intervention System, under the Department of Health, implements New Jersey's Statewide System of Services for infants and toddlers, birth to age three, with delays or disabilities, and their families.
Special Child Health Services and Referrals
Each of New Jersey's 21 counties has a Special Child Health Services Case Management Unit (SCHCS CMU). All SCHS CMU Case Managers, with parent consent, work with the child's parents, physician, and/or specialists to evaluate an affected child's strengths and needs; and collaborates with the family and community-based partners to develop and individual service plan (ISP) for the child and family. This is a free service regardless of income.
New Jersey Birth to Three Early Learning Standards
The New Jersey Birth to Three Early Learning Standards provides a common framework for understanding and communicating developmentally appropriate expectations for infants and toddlers. These standards are based on research about what children should know (understand) and do (competencies and skills) in different domains of learning and development.
Family Transition Handbook
Welcome to When I'm 3, Where Will I Be? This Family Transition Handbook was developed by parents and early intervention and school personnel to provide information as you approach your child's transition from early intervention services.
Family Rights
The "NJEIS Family Rights" describes your child's and family's rights, as defined by Part C of the Individuals with Disabilities Education Act (IDEA).
Survival Guide
This book provides some of the knowledge needed to help you in your important role as a parent. Learning more about parenting and child development can make a world of difference for both you and your child. Increasing your understanding, together with your love for your child, can help you become a better parent – a very special person in your child's world.
Links:
---
Go Bag Table of Content