Person-Centered Approaches in Schools and Transition
The PCAST project provides training and long-term assistance in schools that introduces a more collaborative and person-centered approach to planning and supports. It provides specific thinking skills and tools that are built around a highly collaborative process. One that values and respects all participants. In this overview presentation, participants will learn in a casual and comfortable online environment about these approaches and efforts that have been in practice in New Jersey schools over the past decade.
Michael Steinbruck, MA, is a Senior Training & Consultation Specialist at The Boggs Center on Developmental Disabilities. Mr. Steinbruck's programmatic focus is on developing the Person-Centered Approaches in Schools and Transition (PCAST) project. He provides training and technical assistance related to the development and delivery of person-centered thinking and planning. He works with schools on the implementation of person-centered approaches and related organizational improvement efforts.
Presented on January 7, 2021
For more information on the PCAST Project, contact:
Michael Steinbruck, M.A.
732.456.9880
michael.steinbruck@rutgers.edu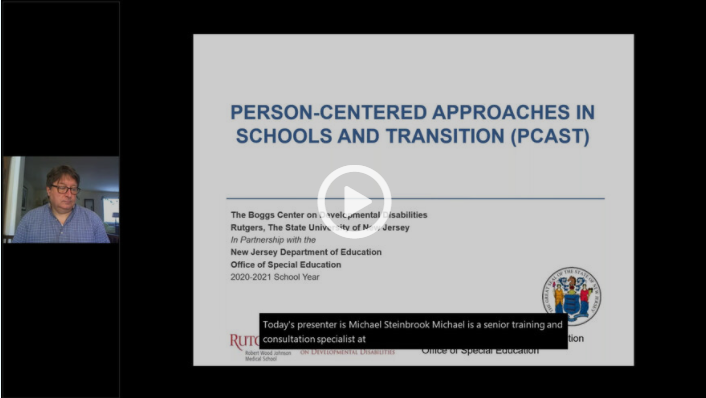 Resources