National Disability Employment Awareness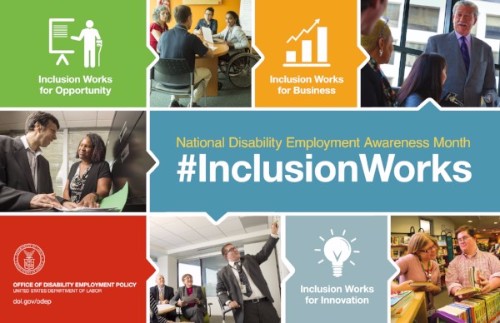 Each October, we stop to celebrate National Disability Employment Awareness Month (NDEAM) to raise awareness about disability employment issues and the individuals with intellectual and developmental disabilities succeeding in the workforce. This month is an opportunity to celebrate the many and varied contributions of America's workers with disabilities. With this in mind, we are proud to present Wednesday's 'Watch Me Work' Series that will introduce you, each week, to a different individual who is succeeding in competitive employment. 
We urge you to also take some time this month to promote this important occasion. You can do so on social media with your Facebook or Twitter posts, or in a letter to the editor to your local newspaper. 
Additionally, please join us for a webinar on Wednesday, Oct. 19 at 6 pm that will focus on the Pre-Employment Transition Services program offered by the New Jersey Division of Vocational Rehabilitation Services. 
We'd also love to hear your employment stories! Feel free to email us about your successes and/or challenges of finding and keeping employment in the community and we may feature your story on our Facebook or Twitter Page throughout the month. 
Happy National Disability Employment Awareness Month!
---
National Disability Employment Awareness Month 2016 Newsletters