Free Workshop: SSI & Medicaid Presentation
Tuesday, April 25, 2017 6:30 pm - 8:00 pm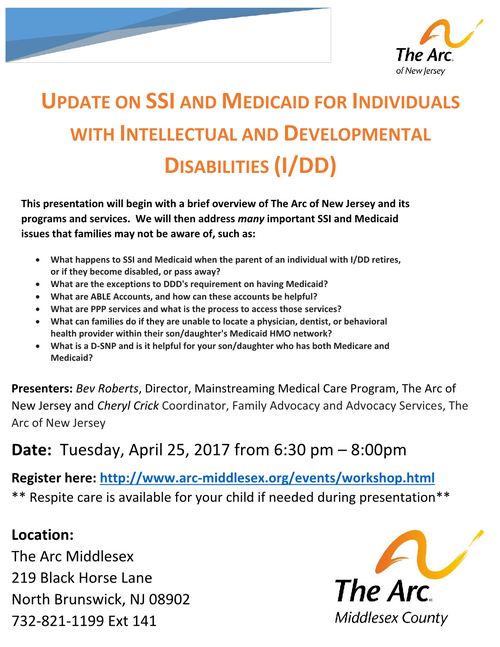 Location:
The Arc Middlesex County, Training Room, 219 Blackhorse Lane, Suite 1 North Brunswick, 08902
Description:
** Respite care is available for your child if needed during presentation**

This presentation will begin with a brief overview of The Arc of New Jersey and its programs and services. We will then address many important SSI and Medicaid issues that families may not be aware of, such as:
• What happens to SSI and Medicaid when the parent of an individual with I/DD retires, or if they become disabled, or pass away?
• What are the exceptions to DDD's requirement on having Medicaid?
• What are ABLE Accounts, and how can these accounts be helpful?
• What are PPP services and what is the process to access those services?
• What can families do if they are unable to locate a physician, dentist, or behavioral health provider within their son/daughter's Medicaid HMO network?
• What is a D-SNP and is it helpful for your son/daughter who has both Medicare and Medicaid?